The health tech community gathered at London Olympia for Digital Health Rewired 2020, where they had the chance to catch up with the latest from NHSX and discuss progress on interoperability, the use of data and analytics. With barely a mention of the novel coronavirus. Lyn Whitfield and Matthew D'Arcy report.
Five take-aways from Matthew Gould's fireside chat
Digital Health Rewired 2020 opened with digitalhealth.net editor Jon Hoeksma holding a "fireside" chat with NHSX chief executive Matthew Gould. Key take-aways:
1. A system job: Asked how his job was going a year after his appointment, Gould said he had "come into the job thinking it was a tech job" but he had learned it was really a "system job": making the role of NHSX to "sort out the system, so everybody else can sort out the tech."
He also said it had been tough to keep the NHS' existing technology programmes "in flight", while working out how to help the service, and to build his organisation's capacity, but it was starting to make progress with a raft of senior appointments and the launch of a consultation on a tech plan.
2. Tech plan: draft for discussion: Gould stressed that while NHSX is working on a Tech Plan for Health and Care, it is only in draft", that "nothing in it is set in stone", and that he would be surprised and "disappointed" if it looks the same in six months as it looks now.
"We have written to every chief executive in the country and said we hope to talk to them about it, and we plan to spend time doing that," he said. The NHS Long Term Plan will "not work" unless it has technology at its heart, he reiterated, but it is "important to find out 'what good looks like'" and "co-create" it with the service.
3. Minimum spend: not yet: Asked if there would be a "minimum spend" for trusts, as floated in this year's NHS operational planning and contracting guidance, Gould's answer was "not yet." While "it stands to reason" that there is an optimum amount that trusts should spend on infrastructure, laptops and the like, he explained, it's not yet clear what that is; and it might make sense to conduct some procurements centrally.
Gould did say that he would be looking to create a commercial officer to build up a team to support trusts making big procurements, to overcome some of the information "asymmetry" they could experience when dealing with large tech vendors.
4. Digital aspirant programme: In a similar vein, when he was asked what the promised digital aspirant programme would look like, Gould said NHSX is working on it. He said he wanted lighter-touch monitoring than had been applied to the global digital exemplar programme, with a "shorter list" of requirements but "consequences" for failing to meet them.
He also indicated that he expected the programme to release £3-6 million pots of capital funding for projects with match-funding from trusts, and that there will be "waves" so organisations can come on board when they are ready and not feel that "if they do not bid, they won't get anything."
5. Other agenda items: Gould said his priorities for the next six months are first, to sort out information governance by getting the "bunch of organisations" that issue guidance to "create coherent, unity" advice and second, to get technology with a proven impact on productivity into the NHS.
Although coronavirus "is starting to loom large". Gould concluded by saying there are "three areas of focus" for a health tech response: bolstering NHS 111 Online; building capacity for remote consultations; and using data. "So that is something we are really looking at."
'The NHS needs a patient digital strategy'
The NHS is missing a national digital patient strategy, delegates at a panel debate on progress on interoperability heard. Laura Fulcher, a patient representative at the Professional Record Standards Body, and the founder of charity Mission Remission, argued that organisations often focused on data access and risk, rather than on benefits for patients.
While technology vendors often "speak just to clinicians"; even though information shared for clinical purposes doesn't always meet patient needs. "Nothing will change unless [NHSX chief executive] Matthew Gould creates a digital patient strategy," she said.
Dr Emma Vardy, a consultant geriatrician at Salford Royal NHS Foundation Trust, added that 'co-design', a term heard throughout conference sessions, doesn't mean "designing something and then asking the patient what they think." Patients need to be properly engaged in projects at scale, because "involving one or two could mean missing a lot of patient need."
Four open messages from Terence Eden
Terence Eden, NHSX's head of open standards, wore a t-shirt to deliver his presentation to Digital Health Rewired that read: "Make things open." This, he said, summed up his philosophy because "if you make things open, you make things better." How to do it? Four main points:
One: NHSX wants open standards, but it is not going to be setting them. "Nobody wants little bits of standards from different organisations to do different things," Eden told the interoperability theatre. "Standards need to be international and they need to take account of user needs, not institutional needs."
Two: As far as NHSX is concerned: "If it does not use open standards, we are not interested." The organisation won't commission or buy systems that don't use open standards and it will use change controls to make sure that trusts don't buy them, either.
Three: Open standards means Open Data. Eden, who was a big supporter of Open Data in his previous job at the Government Digital Service, said he wanted to see the NHS storing and publishing data as Open Data, so developers can spend time using it rather than cleaning it.
Four: Open source is back: Eden said he wanted to see the NHS both using and producing open source software because "it is cheaper and cheaper" and also "morally right" to let others benefit from new systems or to interrogate algorithms that might affect their health and care.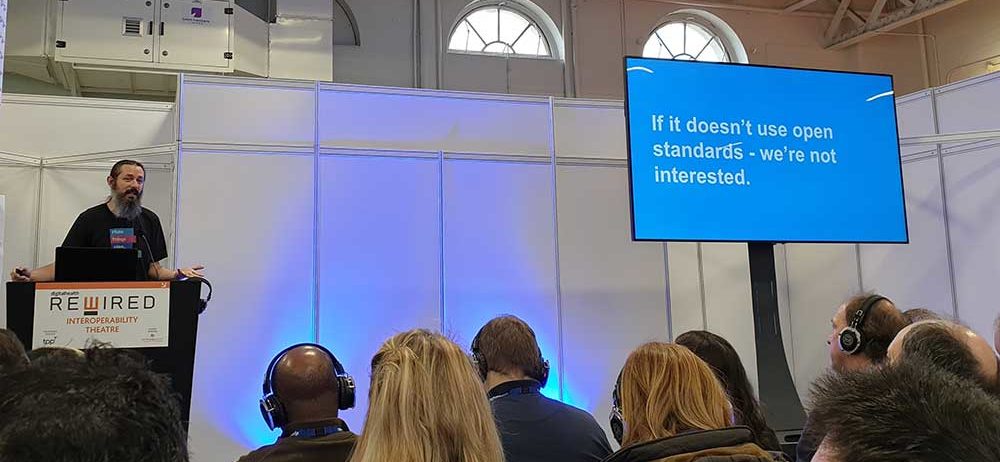 He rapidly dismissed common arguments against the use of open source, saying it could not be "less secure" when security issues like WannaCry were security issues for big, proprietary systems; and health data could not be "too sensitive" to be handled by it if national security and crime fighting could cope (GCHQ and the NCA are both major producers of open source code).
As for the idea that other people would "steal" the code: "Good! We want the NHS to be a world leader in creating fast, secure code that improves the health of people, and that exports that code around the world, so it gets even better and more secure."
'Perfection can't be allowed to hinder progress on interoperability'
In a panel session on interoperability and standards, InterSystems healthcare executive advisor David Hancock said suppliers, the health service, NHSX and NHS Digital needed to work together to co-produce a solution for definition and adoption.
"In the NHS, perfection is the thing that often stops us from doing anything," he said. "We need to work out what's good enough, implement it, see how it works and then do constant improvement."
Hancock, who is also industry co-chair for the standards and interoperability group at INTEROPen, was speaking against a background of emerging concern that national bodies are overlooking vendors in the push to issue standards.
But at the session he also stressed that patient control of information is vital for population health management and patient activation. "We need to be able to integrate patients into the care delivery team," he said. "For patients with lifelong conditions, 99% of all care is self-care."
Like other speakers at the conference, he also felt more action was needed on the vexed issue of information governance. "GDPR has to some extent lowered the bar for sharing information at the point of healthcare delivery," he said.
"If you are doing anything else [in the population health space] being able to pseudonymise data, identify cohorts, plan for the health system, you need to get explicit opt-in consent to be able to use that data. If we are going to be able to do population health we need to move to a patient controlled record."
TPP "is the most interoperable company in the NHS"
One of the biggest draws at Digital Health Rewired was Frank Hester, the chief executive of TPP, who filled the interoperability theatre for a talk on "why interoperability is a shared responsibility of everybody working in health and care."
It wasn't the subject that packed people in, so much as Hester's reputation. Which, as a pre-feature on digitalhealth.net acknowledged, is one of being "difficult" and not much on board with interoperability.
In the feature, Hester says his unwillingness to go along with some of the "silly ideas" of the National Programme for IT era and its aftermath was born out of his passion to deliver for his wife, a GP, and her clinical colleagues.
He has always been willing to work with technology approaches that do this, he told the website's journalists. And he thinks NHSX and NHS Digital are going in the right direction by drawing up national specifications for structured data items that suppliers can work with on local projects.
This was also the line that Hester took at the event, where he told his crowd: "I think we are the most interoperable company in the NHS, because we work in so many areas: theatres, GPs, palliative care, prisons – we can see patient data right across the ecosystem."
Also, perhaps remembering that another criticism of TPP is that its idea of interoperability is to get everybody onto one system: "Although we would like everybody to use SystmOne, we have always known that we need to be part of a gang."
In fact, he put TPP's interoperability template up on screen. "Every supplier should be able to show you this," he told visitors; and if they didn't volunteer it, he told trusts, they should "ask to see it, before you sign a contract."
Still, if Hester has shifted ground he isn't moving further for the moment. He reiterated that "there needs to be a focus on national standards" because: "It's hard enough for suppliers to comply with them, without trying to meet one for Cornwall and another for Yorkshire or wherever."
And when a member of his audience asked why he was unable to get a list of data items from TPP to map to a data exchange project, Hester told him he should use a national standard.
Similarly, when another member of the audience asked why he couldn't get an API to transfer data from one part of the health system to another he said it was because NHS Digital hadn't got around to finishing the relevant specification.
The questioner, he added, should "call Sarah [Wilkinson, chief executive of NHS Digital] and tell her to sort it out" because once she did his company could comply in days. "Shall I mention your name?" he was asked. "If you think it will help," he replied.
Highland Marketing clients and their customers show digital in action
A rather different take on interoperability was presented by Tomaz Gornik, the owner and chief executive of Better, who argued that best of breed has, traditionally, struggled in the NHS because of the complexity of the integration involved.
He told an afternoon session in the clinical software theatre the solution was for trusts to start with an open platform that could store data in a non-proprietary format and make it available to other applications.
Andrew Forrest, the chief information officer of Taunton and Somerset NHS Foundation Trust, explained how it has put the Better platform at the heart of its approach to creating an electronic patient record and reaped benefits that include: flexibility, agility, staff engagement and "unlocked" data.
Mark Hutchinson, the chief digital and chief information officer of Gloucestershire Hospitals NHS Foundation Trust, explained how it has taken a slightly different approach to go from "laggard to leader" or "zero to hero". The trust used the Allscripts clinical wrap to deploy elements of the Sunrise electronic patient record within five months of contract sign.
In the shared care theatre, Adam Thomas, the CIO of The Dudley Group NHS Foundation Trust, outlined how it is using Allscripts dbMotion to transform population health management. And Care UK outlined the benefits of having a "fully embedded EPR in use across four hospitals" after eight years of working with IMS MAXIMS.
'Women under-represented in medical data' (and many other datasets, too)
Writer, journalist and campaigner, Caroline Criado-Perez, told delegates there was a perpetuating gender data gap in healthcare. The author of Invisible Women: Exposing Data Bias in a World Designed for Men, gave a range of examples where women were under-counted or under-represented in clinical trials and healthcare studies, even when they were at higher risk of adverse events.
"Women aren't even included in studies where its literally a product just for women," Criado-Perez told the conference, referring to research into the interaction between 'female Viagra' and alcohol. "They tested that on 23 men and two women. You don't need to be a doctor to know that male and female alcohol tolerances are just a little bit different; and, of course, this is female Viagra…"
Studies into serious illnesses and even epidemics often left out women because of incorrect assumptions, because men were seen as "the standard", or because researchers felt women's physiology and even the menstrual cycle could impact on findings, Criado-Perez added in her keynote speech.
The nature of medical research also predominately focussed on issues faced by men. "There are five times as many studies for erectile dysfunction as there are for PMS, even though 40% of women don't respond to currently available treatments," she claimed.
An historic disparity in research data also means that available data is decades behind where it needs to be; just companies are starting to bake it into machine learning and AI products. "There's a lot of data we have to collect and its very unfortunate we haven't been doing it before now," she said.
"It takes decades to say whether something causes cancer. It is going to take decades for enough women to die [from working in a particular area or using a particular class of products] to know if that's an area we need to address. We have to start collecting the data now."