HM Interview: Andrew Griffiths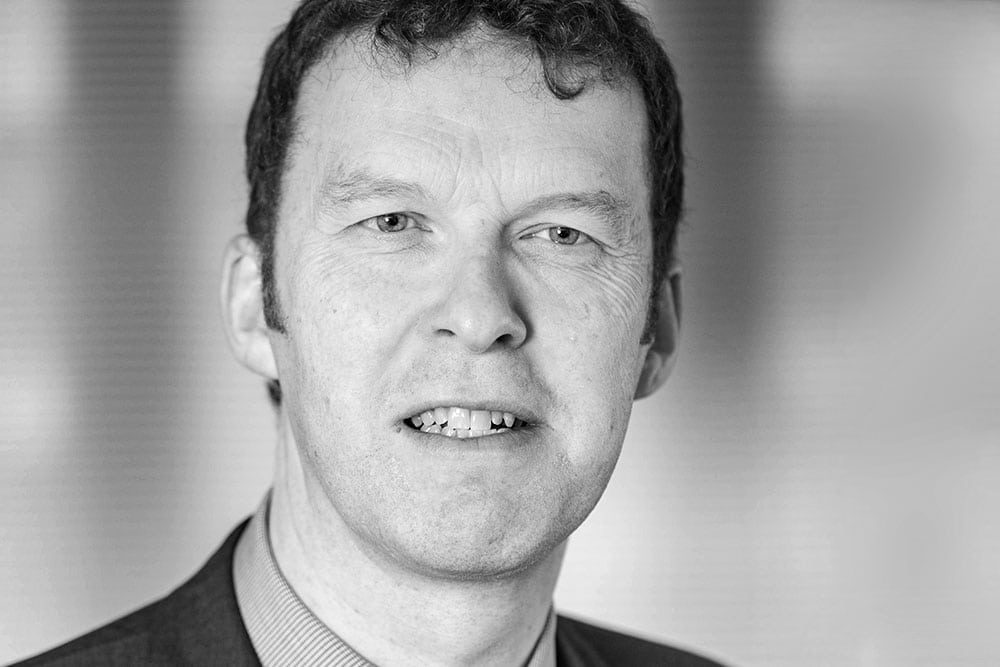 The head of NHS IT in Wales tells Lyn Whitfield about the digital journey Wales has travelled for more than a decade; and why its investment in national infrastructure and systems is paying off with new services for staff – and patients.
In 2004, as England's National Programme for IT got into its stride, the NHS in Wales published a rather different roadmap for digital health.
The Informing Healthcare strategy set up a board with responsibility for delivering strategic products and projects to NHS Wales, with the aim of creating a "holistic patient record" to support clinicians and service improvement.
The strategy was rebooted in 2015 as Informed Health and Care. A decade on, the refresh naturally put more emphasis on delivering mobile tech to staff and new digital services to patients. But it stressed that it was a 'refresh' not a change of policy.
In England, the National Programme delivered some of its infrastructure and project goals, but otherwise stalled and then went back to telling trusts to sort out their own electronic patient records. Wales has never changed tack.
There at the start
Andrew Griffiths, the chief information officer (health) for Wales and director of what is now the NHS Wales Informatics Service, was a member of the working group that oversaw the original strategy.
He says it has stuck because it got a number of things right. "We were seeking to get a patient record right across Wales, that could be accessed wherever the patient turned up.
"We were probably optimistic about how fast we could get there; but that is the way with NHS IT. Early on we decided there were some big infrastructure pieces to put in, and this has been one of our successes as it has given us the building blocks for additional functionality."
Not, of course, that it has all been plain sailing. Griffiths admits it's "easy to lose your nerve" with major technology projects; not least when big companies come calling with shiny products they promise will be no effort at all to deploy.
However, he points out: "If you do that, you have to start back at the beginning. You will still have the same aim, but you will have lost a lot of time. Tortoise like, we hope to get there faster in the end."
'Once for Wales'
Wales operates its own demographic and data reference services, to make sure patients, data items and clinicians are identified consistently across all its IT applications.
It made an early decision to develop its own patient administration system. Initially called Myrddin, and now called the Welsh PAS, this is in use in six out of seven of Wales' health boards and has around 30,000 users.
"There are a couple of sites where it has not been deployed yet, and one is a big one, where the move will be difficult, because it has a lot of systems in place," Griffiths says. "However, as the functionality is developed we will make the swap, and then the Welsh PAS will be in use everywhere."
Wales has also developed its own digital record store, the Welsh Care Records Service, and worked with Scotland to develop the Welsh Clinical Communications Gateway; which sends e-referrals between GPs and hospitals, and e-discharges between hospitals and GPs.
However, Wales has not built everything itself. It has favoured a mixed economy of products with, for example, national contracts in place for lab and digital imaging systems.
Building trust
The various strands of work are pulled together through another major building block, the Welsh Clinical Portal, a digital front-end or workspace for clinicians.
"This is rolled out to about half the number of PAS users," says Griffiths. "We are using it for a wide range of information, and one of the things we are piloting is giving people access to results, wherever the tests were requested.
"We have shown that patients can be seen in a hospital and then go to a community clinic, which may be linked to a different pathology lab. If the hospital results can be seen there, we get all kinds of benefits; fewer repeat tests, faster treatment – because things can be dealt with there and then."
The Welsh Clinical Portal is also used to give hospital staff access to the patient's GP record, with the patient's consent. Griffiths says this was not a major technical challenge – Wales' GPs all use one of two systems – but it was a major trust challenge.
To convince GPs and patients that their records would not be inappropriately accessed, Wales has created the National Intelligent Integrated Audit Solution, or NIIAS, which keeps a log of who has accessed any aspect of a patient's record, and 'looks' for patterns of inappropriate behaviour.
New ideas for patients
The NHS in Wales already has a portal for patients, My Health Online. This allows patients to make GP appointments online and request repeat prescriptions. It will soon enable them to register online, send a message to their GP, and access their summary record.
Griffiths says there are plenty of ideas for further developments, but the Informatics Service wants to make sure they fit into its over-arching strategy. For example, he says, there's a debate to be had about how to use the My Health Online portal with secondary care.
"We have 300,000 users of My Health Online, and we are pretty confident about their identity, because they have all been along to register with their passport or another piece of identification. So we want to re-use those IDs to enable access to other records, and we are talking to professionals and patients about what they want.
"That seems to be appointment data from the Welsh PAS and referral data; has a referral been made, has the hospital accepted it, has an appointment been issued? That kind of process information, because it would make it much easier for people to see where patients had got to in the system."
Don't neglect the basics
A decade and a half on from the Informing Healthcare strategy, Griffiths sees two big challenges ahead. One is refreshing NHS Wales' IT infrastructure, and making sure it remains fit for purpose.
Wales avoided the problems that England and Scotland had with the WannaCry ransomware attack. In a written statement, first minister Carwyn Jones said this was because it was able to "temporarily block all external emails sent to NHS Wales and apply anti-virus definitions and patches to both national and local systems."
However, Griffiths says the attack – and the recent incident at British Airways, at which a power problem took out its computers – is a reminder that "things grow old" and "you constantly need to ask if your systems and processes are up to date."
One issue that will arise as the NHS finally goes paperless, or even as individual departments stop relying on folders of notes, is what happens if there is a problem. "I think the next big thing that we will do is stop pulling records for outpatients," Griffiths says. "That would be a huge success.
"But it raises the question of what happens if the system is not there? At some point, we won't be able to just fall back on paper records, because we won't be creating paper records. So we need to think about that at the outset.
"It's not glamorous, but I am not very keen on pushing on with glamorous stuff while neglecting the basics." In any event, he adds, Wales may have created a lot of the infrastructure and the building blocks that it needs, but it's still not making best use of them.
Getting into the "exciting stuff"
Griffiths wants to drive uptake of what has been created, to start making better use of the data that comes out of it, and to get into the whole service transformation piece. "We want to stop pulling records in outpatients, but perhaps, eventually, we might be able to reduce the number of outpatients appointments," he says.
"We have already undertaken a pilot with clinicians who said they wanted to be able to see a patient's results before they came in to see them. And as soon as they could do that, they said: 'Well, if I can see the notes, I might not need to see the patient, because I could just provide some advice to their GP.'
"That really gets you into the workflow, where people do not come in, but they still get a better service. So, there is lots to do, but we're finally getting into the exciting stuff."
Overall, if he knew when Informing Healthcare was published where the NHS in Wales would be a bit over ten years later, would he be pleased? "Probably," he says.
"There's always a bit of you that thinks: 'In the next year, we'll get it all in and working' and there is that little bit of disappointment when that doesn't happen. But overall, I'm pleased with the progress we have made."
Video case studies: The NHS Wales Informatics Service has produced a series of videos showing how health service staff have been able to modernise services and offer better care to patients as a result of investment in technology. The videos emphasise the wide range of systems that are now available to clinicians, managers and patients and can be found on the NWIS website.
Want more articles like this one?
Our free newsletter drops into your inbox every Friday to bring you...
Industry news

Essential analysis
Unmissable interviews

HM blog posts, tips and advice