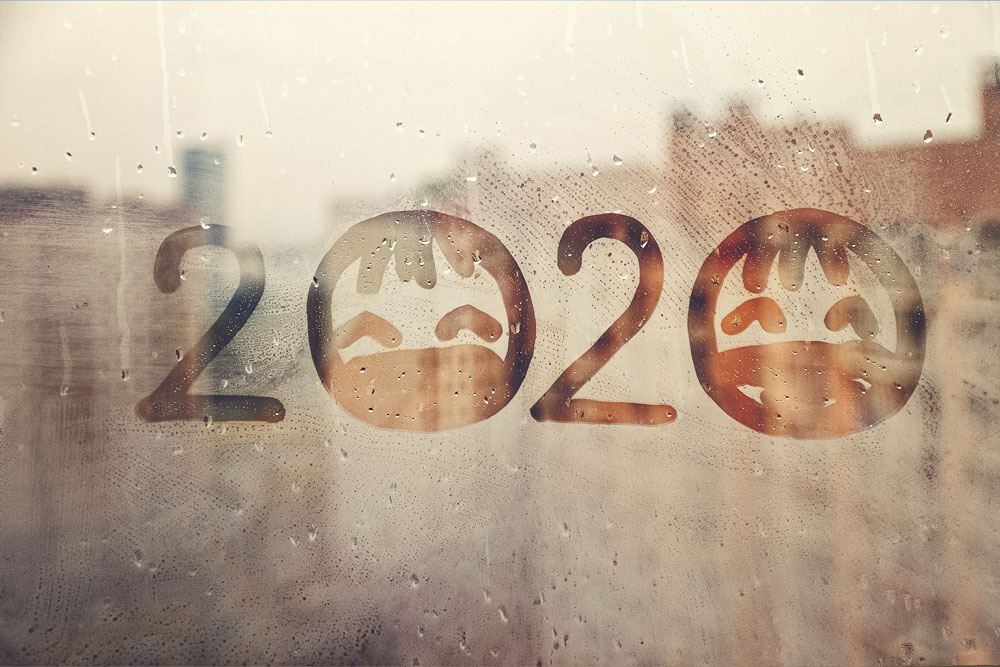 There are no prizes for guessing what has dominated the news this year. Once the novel coronavirus arrived in the UK in the spring, it disrupted the economy, the NHS, its suppliers, and the lives of millions of people. Amid the dislocation, though, there was a real pick-up in digital adoption in health and care.
Many are hoping this will be retained when mass vaccination finally enables the country to get back to something like normal, and the NHS really starts work on integrated care systems in 2021. So, here are the highs and lows of a tumultuous year, as captured in the Highland Marketing weekly newsletter, the Healthcare Roundup:
January
The year started quite normally. NHS England's chief executive, Simon Stevens, was given a knighthood in the new year's honours list, and health and social care secretary Matt Hancock's idea of a big announcement was £40 million to "transform slow computer login times."
North Bristol tried its third electronic patient record provider in a decade by shifting to Cerner. While Dartford and Gravesham NHS Trust took a different approach to EPR by announcing that it would work Alcidion and Better; an option picked up later in the year by South Tees Hospitals NHS Foundation Trust [Healthcare Roundup, 10 January 2020].
In the middle of January, the government said it was "carefully monitoring" an outbreak of a novel coronavirus in Wuhan, China [24 January]. But the month concluded with the NHS announcing a climate emergency and former health and social care secretary Jeremy Hunt being elected chair of the Commons health and social care committee [31 January].
February
Normal business continued in February, with the National Audit Office putting out a report on the financial sustainability of the NHS that concluded, not for the first time, that the NHS was not financially sustainable. Sir Simon Stevens issued the health service 'must do' list for the year and told it to start preparing for the arrival of integrated care systems in April 2021.
NHSX indicated that it would be looking to define 'what good looks like' and how much trusts should spend on IT [7 February]. There was a Cabinet reshuffle, but Matt Hancock stayed put [14 February]. Sir Michael Marmot issued a report that painted a "shocking" picture of the impact of austerity on life expectancy and ill health.
Inequalities were to have a major impact on the UK's experience of Covid-19, but in the last week of February Hancock said the NHS was ready for it, as Northern Italy went into lockdown [28 February].
March
Everything changed in the first week of March. The government told the public to "delay and flatten" the coming curve of Covid-19 infections by washing their hands while singing 'happy birthday'. But NHS Digital chief executive Sarah Wilkinson tore up her speech to Digital Health Rewired to urge health tech to do its bit in the coming storm.
Rewired was the last health tech show to go ahead; as it finished, HIMSS20 was cancelled [6 March]. The following week, chancellor Rishi Sunak held what turned out to be the first of a series of coronavirus budgets, promising the NHS "whatever it costs" to cope with the virus [13 March].
The week after that NHS England told the NHS to free up 30,000 beds by stopping routine work. Primary care was told to move consultations online. A scramble started for ventilators and personal protective equipment. The government published an emergency bill giving it sweeping powers to restrict gatherings and enforce quarantines [20 March].
Then, despite his palpable reluctance to impose a lockdown, prime minister Boris Johnson told the country to 'stay at home, protect the NHS, and save lives' on 23 March. As lockdown took effect, the NHS response continued to ramp-up, as the first of what became a series of Nightingale hospitals was announced at London's ExCel Centre.
And NHS Digital worked alongside NHS IT departments and suppliers to roll-out remote working, virtual consultation, and Covid-19 triage and treatment tools. The Health Tech Newspaper captured the scale of the health tech's response in two features supported by Highland Marketing [27 March].
April
As the UK adjusted to 'stay at home' restrictions, the scale of the pandemic hit home. Boris Johnson was admitted to the intensive care unit at St Thomas' Hospital in London, as the UK's official death toll from Covid-19 reached almost 1,000 per day [10 April].
It later emerged later that the peak of the first wave came on 8 April, when 1,445 people died, but the death toll was over 1,000 per day for 22 days. The toll seemed lower at the time, because deaths in hard-hit care homes were not counted in the tally.
Matt Hancock kicked off one of the unhappy sagas of the first wave by promising the government would be testing 100,000 people per day by the end of the month [17 April]. NHSX kicked off another when it announced that it was working on a Covid-19 contact tracing app [24 April] and not using Apple/Google tech [1 May].
May
NHSX started trials of its contact tracing app in the Isle of Wight, despite reports that it might already be looking to switch to the Apple/Google model [7 May]. The government stopped issuing data comparing the UK's performance on Covid-19 with other countries when it became clear that the UK had the worst death toll in Europe and excess mortality reached 50,000.
Despite this, it started to relax some Covid-19 restrictions and shifted to the much derided 'stay alert' slogan. Testing targets continued to be missed, so NHS Test and Trace was set up under the leadership of former Talk Talk boss and Tory peer Dido Harding [15 May].
Then, UK politics and its leadership of the pandemic was derailed by the controversy that erupted over the decision of Number 10 Downing Street aide Dominic Cummings' decision to drive to Durham and back via Barnard Castle at the start of lockdown [29 May].
June
Rows about statistics and testing continued, as the UK Statistics Authority rebuked the government for conflating tests put in the post with tests carried out and for counting in multiple swabs and repeats [5 June]. NHSX gave in to the inevitable, scrapped its contact tracing app and moved to the Apple/Google model.
Elsewhere, attention started to turn towards the long-term impact of the pandemic on the health and care system, with the NHS Confederation and the Nuffield Trust putting out reports that argued the NHS was likely to have a "slow road to recovery" and "unacceptable levels of rationing" without funding for a significant increase in capacity. NHS Scotland issued its own 'Remobilise, Recover, Redesign' plan [12 June].
As a summer of 'new normal' got underway, Boris Johnson announced a significant easing of Coronavirus restrictions. This enabled business to reopen and cut social distancing recommendations from two meters to 'one metre plus' [26 June].
July
In a sign of the autumn to come, Leicester went into local lockdown. But the health tech press drew breath and reported on some of the big projects executed in the first wave. Somerset NHS Foundation Trust also went live with the Better e-prescribing system, and there was a big expansion of the telehealth programme that Mersey Care NHS Foundation Trust runs using Docobo technology [3 July].
There was a go-live for Allscripts Sunrise e-observations at Gloucestershire Hospitals NHS Foundation Trust and an accelerated deployment of the Allscripts dbMotion information sharing system at The Dudley Group NHS Foundation Trust [31 July].
The Northern Ireland Health and Care Record and Connecting Care in Bristol also outlined how they had been able to support rapidly changing services using Orion Health technology. And in another significant piece of industry news, The Dedalus Group agreed to buy DXC Technology's healthcare provider business for $525 million in cash.
August
As the UK continued to get over the first wave of the pandemic, NHS England and Improvement told the NHS to resume 'near normal' activity, defined as 80% by September and 90% by October. There was some scepticism about whether this could be achieved.
However, the British Medical Association said the NHS should "never again become a Covid-only service" as the impact of the response on cancer, heart and stroke services became clear [7 August]. The government announced that it was abolishing Public Health England and creating a National Institute for Health Protection to focus on pandemic response. Dido Harding was considered the perfect person to lead it.
Frimley Park NHS Foundation Trust made a huge contract award to Epic, which also won major EPR tenders from Manchester University NHS Foundation Trust and Guy's and St Thomas' NHS Foundation Trust in 2020 [21 August].
September
English schools went back, despite concerns about children catching Covid-19 and circulating it to the wider community. The following week, the government imposed new restrictions, including the 'rule of six'. The week after that, Boris Johnson told MPs it was doing "everything in our power" to avoid a second lock-down.
A story in the Health Service Journal signalled the end of the local health and care record exemplar programme. A 'leaked' review argued the LHCREs had faced challenges and a more local approach might be preferable [4 September].
In better health tech news, Matt Hancock was finally able to launch England's Covid-19 contact tracing app, the Department of Health and Social Care announced that seven trusts would be funded for e-prescribing systems, and Black Country Pathology Services explained how it had been able to go-ahead with a remote go-live of the WinPath Enterprise LIMS during the pandemic [25 September].
October
The NHS Confederation published a plan to 'reset' health and care after the pandemic, although it warned that since this would take place against the backdrop of the worst recession of modern times there would need to be "honesty and realism" about what could be achieved.
Against this background, the Confed called for leaner structures, integrated care, and a focus on public health [2 October]. NHS Providers also tried to look forward with a report on digital transformation in the NHS that called for additional investment and clear policy support to sustain the changes that had taken place during the crisis.
Eight trusts in Greater Manchester announced that they were going to adopt medical imaging technology from Sectra so they could easily exchange images with each other [9 October]. And NHSX chief executive Matthew Gould tacitly confirmed the national LHCRE programme was over by setting a target for every area of England to have a 'basic' shared care record by next September [16 October].
However, at the end of the month, the government was forced to introduce a new, three-tier system of restrictions in England after a tussle with northern cities. And Rishi Sunak gave up on his comprehensive spending review [23 October].
As hospitals across England, Scotland and Northern Ireland started to suspend elective activity once again, celebrity chef Prue Leith published a report on hospital food that made eight recommendations, including building hospitals with kitchens and ward dining rooms [30 October].
November
The news that England was going to go into a second lockdown was leaked and then confirmed, to the fury of a libertarian MPs and those worried by the lack of an obvious plan for the winter.
Rishi Sunak followed up with another emergency package of funding, including an extension of the furlough scheme first introduced in March. The NHS resumed its state of emergency [6 November]. But there was good news the following week when a preliminary analysis showed a vaccine developed by German company BioNTech and Pfizer was 90% effective.
Meantime, the Commons Public Accounts Committee published a highly critical report on the state of NHS IT. With NHSX's tech plan on hold for Covid, it called for clarity on who was meant to do what at a national level, what trusts should be spending on, and where the money was going to come from [13 November].
December
As it happened, health and tech publications had been reporting that McKinsey had been asked review the way that NHS England, NHSX and NHS Digital work together. The Health Service Journal established that it earned around £1 million for the work. And then suggested a digital "taskforce" that nobody wanted.
The government approved the BioNTech/Pfizer vaccine in record time and started planning the huge logistical challenge of inoculating the UK population [11 December]. As the Christmas and New Year break came into view, Gov.uk showed that more than 63,000 people had died within 28 days of a positive test for Covid-19 and more than 73,000 people had died who had a mention of Covid-19 on their death certificate.
Excess deaths, which had stabilised in May, were also rising again, and the OECD concluded that the UK had taken the biggest hit of any major economy. But political, press and NHS attention had turned to Brexit…
Want more articles like this one?
Our free newsletter drops into your inbox every Friday to bring you...
Industry news

Essential analysis
Unmissable interviews

HM blog posts, tips and advice